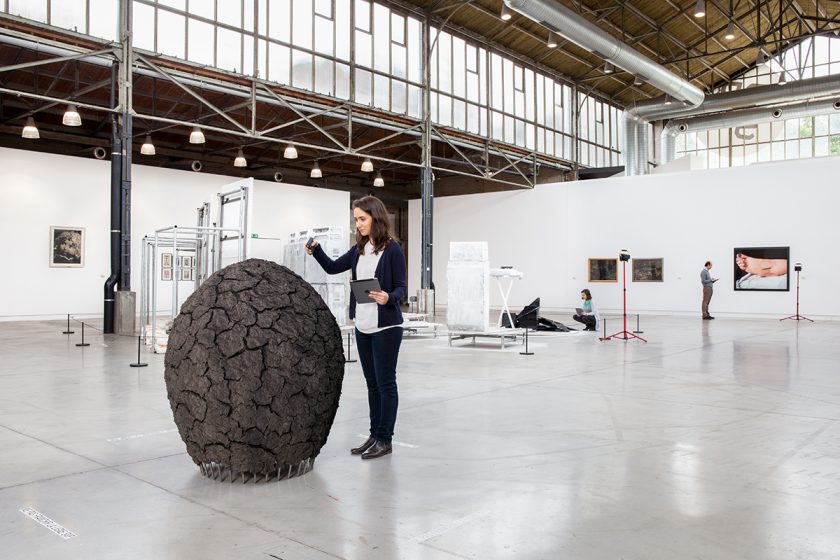 Condition reports
The Nicolas Lemmens Studio has been providing quality services in condition reports for museums, galleries and private collectors for more than 25 years.
What is a condition report ?
No work of art should ever leave the collection without a condition report drawn up by a specialized conservator. This is the document that establishes the condition of the work on departure. If on return, it happens to be damaged, the condition report is the only means the lender has to prove that the damage occurred while on loan, allowing a claim to be made.
Who needs a condition report ?
If lenders must record the condition of their loans, borrowers must also make sure that they record it at the moment of arrival at the exhibition venue. If there are discrepancies between the two, the lender and the art-shipping company must be contacted immediately to find out what happened and at what stage.
Who establishes a condition report ?
Typically, bigger institutions and museums have their own in-house conservators.
Smaller institutions must hire the services of external conservators, whose role will be to check in-coming loans on behalf of the borrower.
Often the bigger museums also need to hire extra external conservators to cope with the large volume of loans within a very tight installation schedule.
Pre-acquisition reports …
Condition checks are also commissioned from a professional conservator before an acquisition.
The aim of these checks is to estimate the condition, the rate of deterioration and the potential housing and preservation requirements of an artwork.
Failing to look at the artwork from a conservator's angle can well result in the buyer's incurring severe, unforeseen expenses or monetary loss.
Condition report: digital, fast and confidential.
The Nicolas Lemmens Studio developed a digital condition reporting system. The digital system avoids consuming vast amounts of paper and allows a much easier and quicker exchange of information while keeping full control of the delicate issue of confidentiality. The final product is a flat PDF document ready to be e-mailed, stored in a cloud-based application or saved to the internal or external memory peripheral.
* Photo : Exhibition "Uchronies. Collection de la Province de Hainaut", BPS22, Charleroi, 2016.
Painting
With more than 25 years of experience and hundreds of paintings restored for the top end of the art market and leading museums, our painting conservation department is the core of the company.
New ways of producing paintings
Modern and contemporary painting is characterized by its experimental nature. Artists, moving away from well-established painting methods and traditional "artist's materials" have explored new ways to produce paintings. Picasso and his contemporaries made extensive use of house paints on their canvases, a trend that experienced something of an explosion among post-war abstract artists.
New materials
Supports have followed a similar path with the introduction of countless new materials, all of which pose different and often difficult conservation challenges.
New conservation techniques
At the Nicolas Lemmens Studio, we have been dealing with these challenges for many years. We have found solutions to seemingly impossible cases and pushed the boundaries of conservation techniques while keeping the fundamental principles of quality conservation: Efficiency, stability and reversibility of each one of our materials and interventions.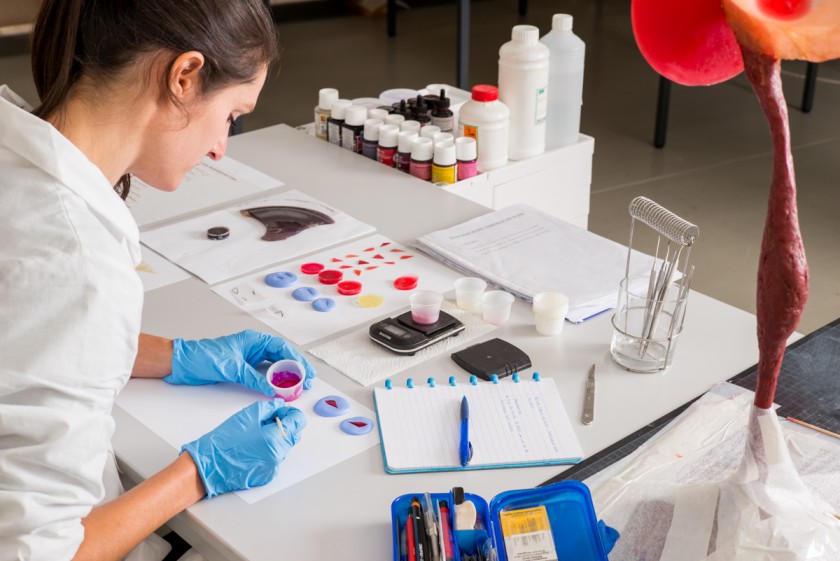 Sculpture
Besides traditional materials such as stone, bronze and wood, contemporary sculpture includes plastic objects, glass, ceramic objects, wax, textiles, paper; all kinds of metal alloys, organic materials, and time based media not included; effectively any material that mankind may use or have produced.
An unpredictable discipline
It is an unpredictable discipline and the most important quality of a contemporary sculpture conservator is their capacity to improvise and respond in an inventive, creative way.
A well-adapted space and mobile unit
Another major component of sculpture conservation is a well-adapted space. At Nicolas Lemmens Studio we are able to undertake the most complex conservation projects thanks to our new, purpose built sculpture conservation studio. We also have a mobile unit for in-situ interventions.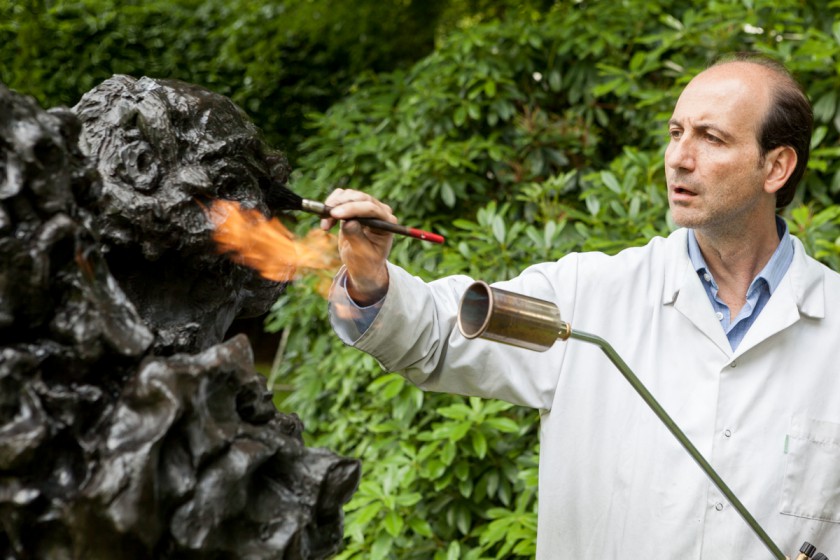 Outdoor sculpture
Keeping outdoor sculpture is a constant battle against the elements, vandalism and pollution.
Withstanding outdoor exposure
Only some metals, stone, ceramics and a few plastic polymers can withstand outdoor exposure. But even they need initial conditioning and the regular attention of specialized conservators. Protective coatings, such as waxes and resins, must be replaced at least once a year. Biological residues must be eradicated, graffiti cleaned, mechanical damage repaired and overhanging trees and foliage cleared.
If these issues are not tackled regularly, the rate of deterioration will increase exponentially and in a short time the condition of the artwork may be compromised.
Maintenance of outdoor projects
For some years, the Nicolas Lemmens Studio and its mobile unit have been in charge of the maintenance of an ever-increasing number of outdoor projects, such as public and private sculptures, murals and other art-works both within Belgium and abroad.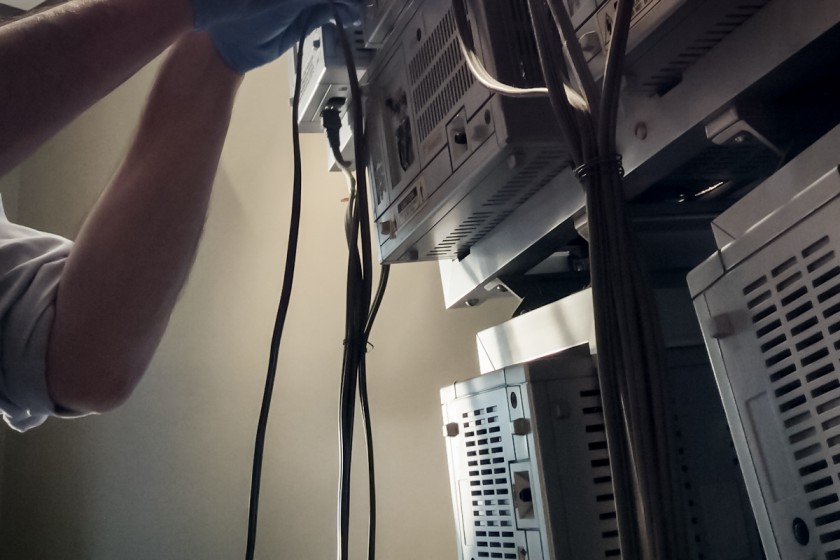 Time-based media
The Conservation of time-based media (video art, digital art, holographic art) regularly presents the Conservator with new challenges.
Technological obsolescence
The great disparity of constituent materials used in media works is causing considerable levels of physical and chemical degradation.
Nevertheless, the most important factor affecting works in this field is still that of technological obsolescence. Indeed, the ongoing development of new technologies quickly condemns some components of the works to a level of obsolescence which can inevitably turn out to pose a problem.
Preventive action
Preventive conservation plays a vital role! Extensive documentation and regularly established condition reports and instructions for handling and long term storage may delay this obsolescence.
Through a network of experts specialized in media arts, the Nicolas Lemmens Studio can meet these challenges !
Textiles
Textile artworks are making their entry within a new department at the Nicolas Lemmens Studio. A range of services is dedicated to textile art to preserve this fragile heritage in all these forms: costumes, accessories, ethnographic textiles and contemporary textile artworks.
A history to be preserved
Textiles offer a large number of techniques and materials which represent just as many challenges for their preservation and display. Conservation recommends minimal interventions to preserve the traces of the elements which play their part in the history of textile artworks. Storage conditions and dust collecting procedures are essential elements for guaranteeing optimum conservation for these complex objects which are sensitive to external factors (light, insects, etc.).
Specific techniques
The studio offers services dedicated to the management and conservation of textile artworks for the purpose of using these services to play their part in enhancement projects. The preventive conservation of textiles is in line with a fundamental principle of offering an optimum environment for the protection of these fragile works. The proper protections as well as the presentation of textiles (flat, or used to dress mannequins) are areas which are carefully examined by the studio team.